The Founder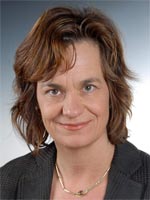 Felizitas Conrath
Felizitas Conrath founded Conrath Consulting & Coaching in 2003, as a human resources consultancy. Conrath Consulting & Coaching specialises in supporting companies and individuals in change processes. Core services include: executive search, interim management, business coaching, facilitating change and personnel development processes, and strategic and operational marketing and sales support.
13 years Executive Search Agency
Felizitas Conrath brings to her company 13 years experience in executive search services. She actively expanded the European business for the executive search unit of tmp.worldwide (former KPMG subsidiary).
Variety of Experience across Company Cultures
Felizitas Conrath works with large multinational and middle sized companies and dynamic start up companies across several business segments. She has business experience with company mergers.
During her last 5 years at tmp.worldwide, Felizitas Conrath facilitated the merger of pharmaceutical companies through filling European management and specialist positions. In addition, she built up international start-up companies through recruiting and coaching man­agement. To date, most customers have come from Pharmaceutical Biotech, and / Healthcare Industries, and the chemical and automotive industry.
5 years Management and internal Company Experience
Felizitas Conrath has worked for a personnel leasing agency and contributed to the installation of the Private Personnel Placement Business shortly after this became law in Germany. Before this she was the personnel and public relations manager for a large international energy provider during the German re-unification process
Academic Background
Felizitas Conrath completed her diploma in Psychology at the University of Cologne in 1989. She is an NLP-Master, a certified Business Coach and an accredited Trainer for Team Management (TMS).